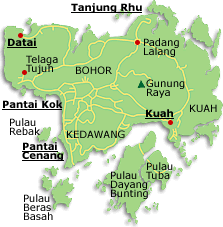 Pulau Langkawi is the main island of a cluster of 99 islands tucked
away off the coast in the northern tip of Peninsula. An island resort for
the entire family, a romantic escapade for honeymooners, a heaven for
water sports enthusiasts and a sanctuary for sun worshippers.
Another attraction of the island is its 'Duty Free' status.
The flattish southern half is where the airport and Kuah town are located while
the north features a hilly spine clad in verdant rainforest and rubber plantations.
The east coast is fringed by dense mangrove swamps and limestone hills.
It is in the north that Langkawi comes alive and nature is at its most vibrant.
With a population tickling 60,000, things are predictably slow and unhurried. Langkawi's beaches while not the finest in Asia, are pretty decent
with a few white sand stretches to rival any.
Click on the headings below for more info
Details and info and links and getting

to know Langkawi

Background - Weather - Travel Tips

Kuah Town - Getting There - Legends

Located on the south-eastern part of the island, Kuah is Langkawi's main town and and the

transit point for ferries from the mainland
and Penang anchor.
Stay-in Kuah - Dining & Entertainment
- Shopping - Night Markets

Details info and links and getting to Langkawi and getting around on the island

Road - Trains - Ferry - Air -

Getting Around

The island is also blessed with an intriguing history and stories of ogres and giant birds, warriors, wronged maidens and fairy princesses

•